Broad Gauge Wagons

1.5 Ton Travelling Crane

A number of these cranes existed after conversion of the gauge in 1892. They were in the GWR/BR crane diagram book as no. 41, and cranes 340, 602 - 608, 611 were all on this diagram. There were others not mentioned in the diagram book (601, 610) that were very similar. At least one, and possibly many more were actually of broad gauge origin. Crane no. 603 was converted in 1892 from broad gauge crane no. 6688, which was originally Cornwall Railway no. 14961. It's match truck was originally Mite timber wagon no. 32567 built in 1883.

This is a broad gauge conversion of the ABS white metal kit, code 2/94. The platform and ends were cut in half, and an 8mm section made from oddments in the spares box (72XX bunker) inserted with low melt solder. Planks were then scribed across to match the existing sections. It still needs brakegear as I can't get the existing parts to fit, so I'll have to remake them. The matchtruck is still to convert.

Private Owner Wagon Sully No. 21
Scratchbuilt from plasticard to a drawing I made based on the well known photo of wagons at the Swindon dump. Wheels are assumed to be 3ft 0in open spoke on a 9ft 0in wheelbase. The rivets were individually formed from tiny offcuts of plastic rod placed with the point of a scalpel, and then flooded with polystyrene cement. As can be imagined, this is a very time consuming process, but the results are effective. The colour is just a wild guess, but looks rather nice. Later wagons were certainly in an all black livery, but a red/black livery such as this is entirely possible as early film emulsions were not sensitive to red light and so red just appeared dark. Transfers are BGS sheet F094. A resin casting of this vehicle is available from BGS member Douglas Johnson.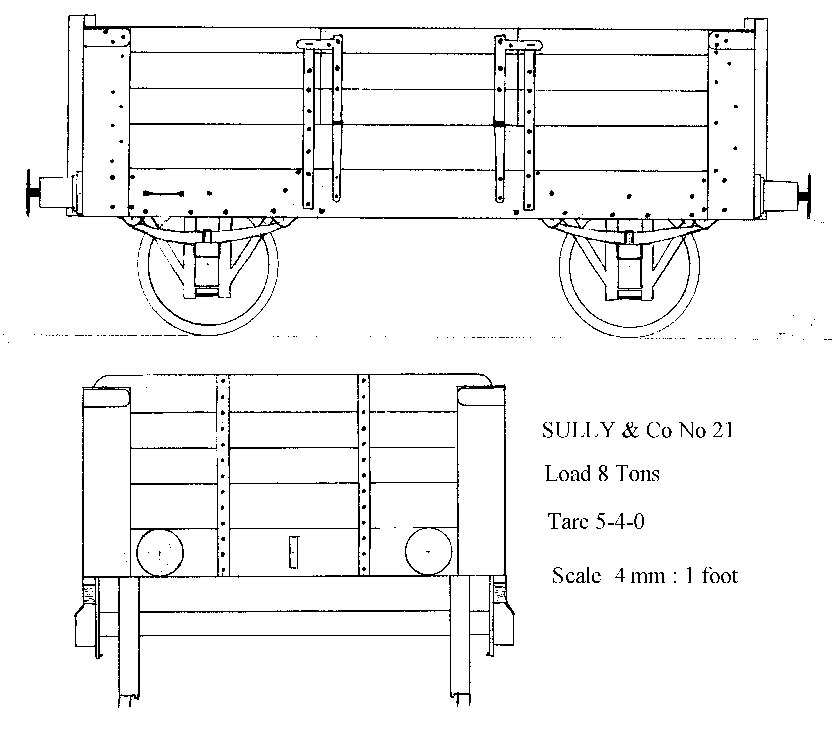 South Devon Railway Coal Wagon
Another scratchbuild in plasticard from one of my drawings. The drawing is based on the photograph and details in "Taunton in the 1880s" of wagon no 10505, ex SDR no. 530. Wheels are 3ft 6in 8 spoke on a 9ft 9in wheelbase.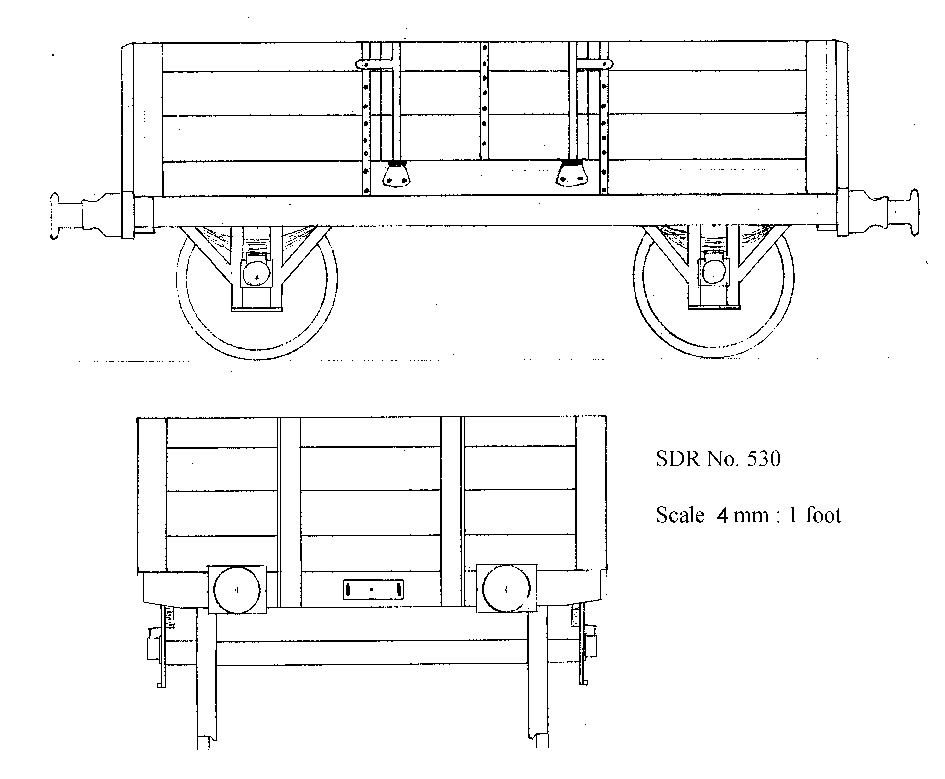 Bristol & Exeter Railway Open Wagon
Built from the Broad Gauge Society's resin kit F401. Note that the instructions for this kit are wrong, stating that the splasher sides need cutting from a 43mm circle of plastic - this is for 7mm scale! For 4mm scale this should be a 24.5mm circle. Quite why you should need to make up these components for a resin kit is a bit of a mystery - surely they should be cast as part of the body, as the casting includes a floor.

Bristol & Exeter Railway Large Coal Wagon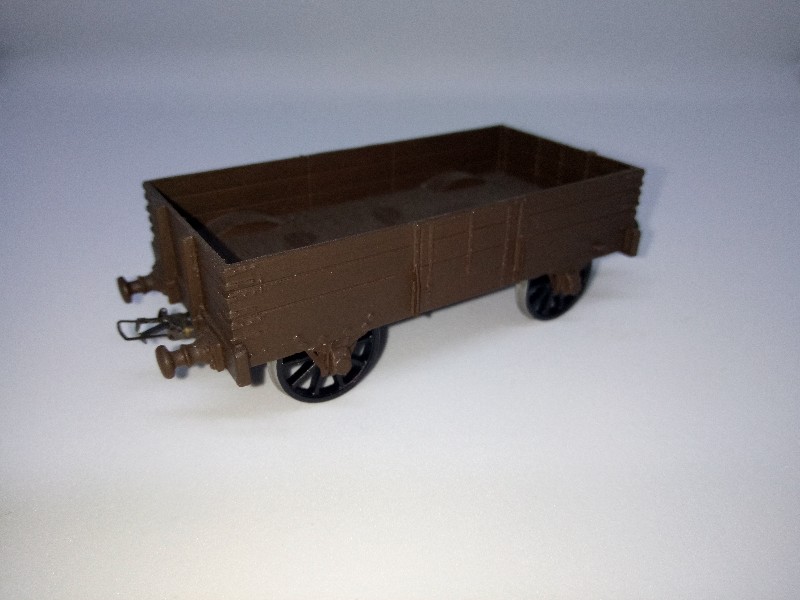 Built from the Broad Gauge Society's etched kit F010. Probably the easiest wagon kit to build, although the corner strapping pieces are very fiddly. Wheels are BGS 4'0" 8 split spoke.

Bristol & Exeter Railway Fish Van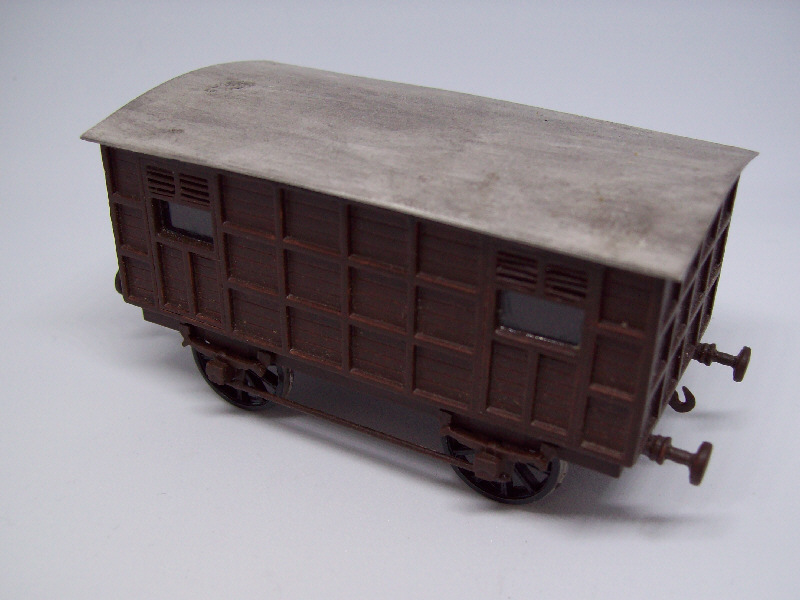 Built from the York Modelmaking laser cut plastic kit. Also available from the Broad Gauge society as kit F301. This kit is based on the grounded body at Yatton station as featured in Broadsheet 39. The model is not made from styrene as the fumes when laser cutting styrene are toxic, but a different plastic material (rowmark?) which cannot be built using standard solvent adhesives. A stronger solvent (Plastic Weld) or contact adhesive is required. The acrylic underframe required a considerable amount of material removing to give clearance for the wheels. MJT W irons are used as inside bearing units, with BGS 4' split spoke wheels The cosmetic W irons are cut from brass sheet, with BGS spring & axlebox castings F038 and buffers F032. The ventillation slats are from microstrip and extremely fiddly.

6-Wheel Iron Box Wagon
Built from the Broad Gauge Society's etched kit F011. Wheels are Gibson 3'0" 8 open spoke.

Vale of Neath Railway Iron Coal Truck
Built from the Broad Gauge Society's etched kit F016. Wheels are Gibson 3'0" 8 spoke.

Wooden Tilt Wagon
Built from a resin copy of the Mike's Models/MRS kit plastic & whitemetal kit, produced by Ebay supplier kkea34k73. They are cast in a one piece mould, so the overflow on the back needs rubbing down - a tedious job. Please note that the whitemetal underframes he produces will not fit the bodies, due to shrinkage (whitemetal copies are always slightly smaller than the originals). The upright body supports need to be filed away on the inside to almost nothing, or removed and replaced with scratchbuilt components from brass strip.

1840 Iron Tilt Wagon
Built from the Broad Gauge Society's whitemetal kit F020. A lovely model, but a real beast to build as there is no clearance for wheels between the solebars. They need to be filed down until they are paper thin, and if you're lucky you wont go through or distort them. Wheels are Gibson 3'0" 8 open spoke.

1854 12 Ton Wooden Coal Wagon
Built from the Broad Gauge Society's whitemetal kit F021, with the etched detailing kit, which has inside bearing suspension/compensation. Wheels are Gibson 3'6" 8 spoke.

Eassie's Patent Timber Trucks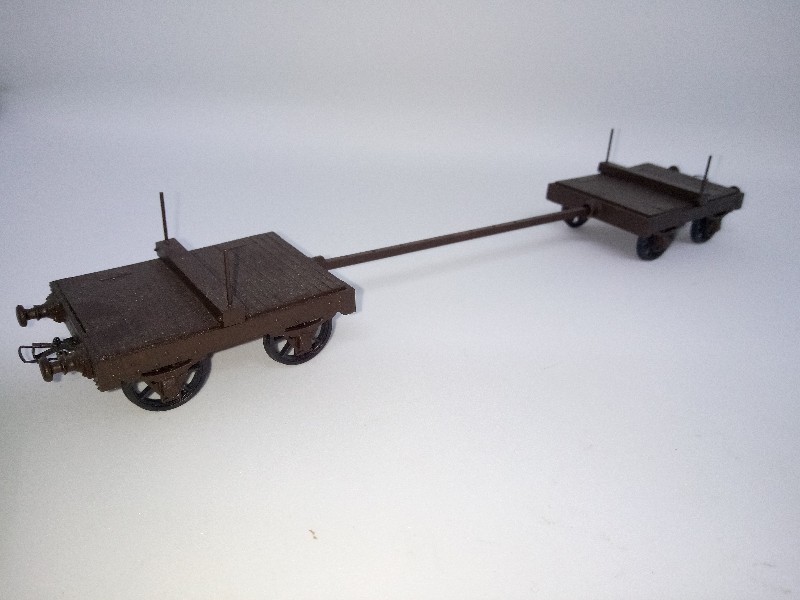 Built from the Broad Gauge Society's whitemetal kit F022. Wheels are Gibson 3'6" 8 spoke

GWR 6 Wheel Fish Wagon Dia S5
A conversion of the Falcon Brass kit WK102. It is apparent that this kit has been 'updated' in the last few years, as the instructions are totally at odds with the etchings provided, and brakegear is no longer supplied. The U section channel underframe is now just supplied as a flat strip with half etched details. Possibly this was intended to overlay onto some U section brass section. For our conversion, this is good, as at our period the underframe would use 'bulb' section (thickened slightly at the bottom) rather than U section. The chassis was cut in half lengthways, and new 32.75mm spacers added. Pinpoint axles were used for the outer wheelsets, but to give some sideplay on the centre wheels, these run in a brass tube sleeve between horns made from angle brass. The kit solebar etches were laminated onto some 2.5mm x 1mm brass angle. The body was also cut in half and 8.4mm inserted from 12thou (0.3mm) brass sheet to bring the width up to 38mm, this then scribed to match the existing planking.

36 of these were built to lot 420 in 1887/1888, and after gauge conversion became Diagram S5. Wheels are Gibson 3'6" Mansell.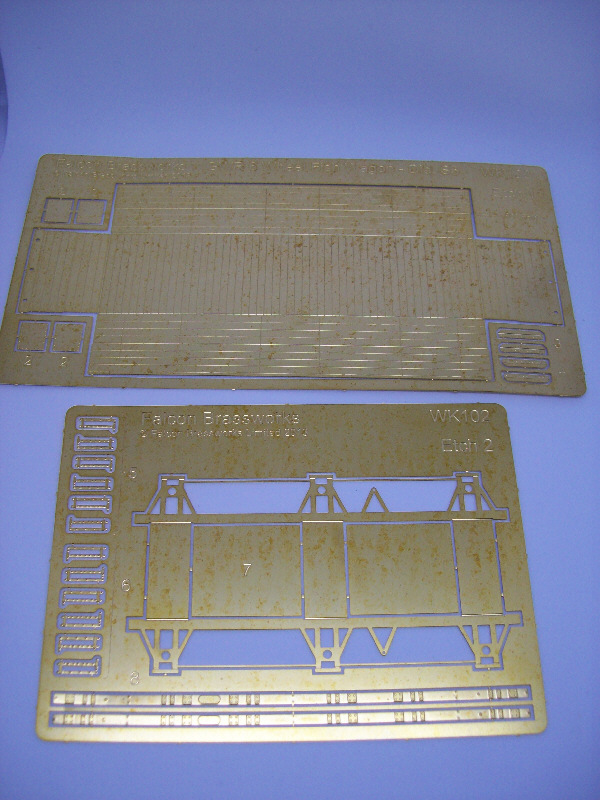 GWR 3 plank wagon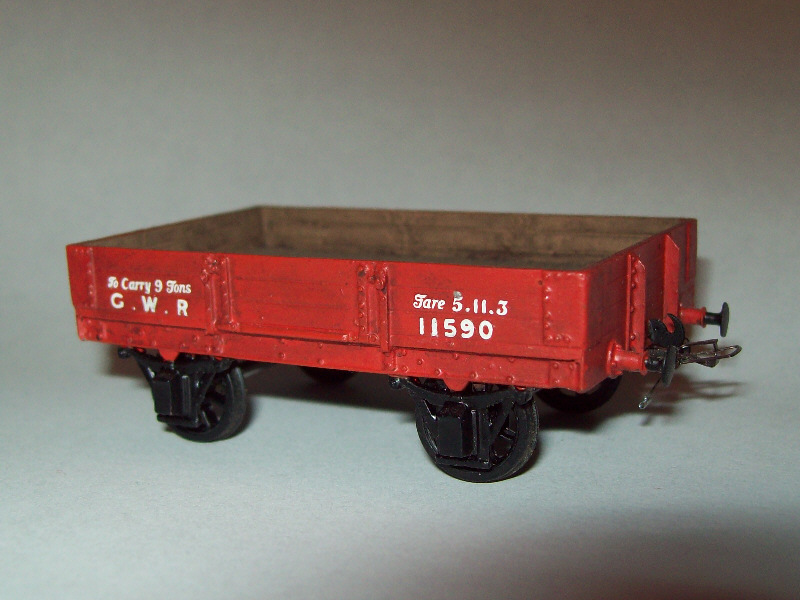 GWR convertible 3 plank wagon. 200 were built to lot 345 in 1886 and 200 built to lot 369 in 1887. Built from the David Geen whitemetal kit W/004. Compensated with D&S models rocking W iron units DS501, used as inside bearing units. Wheels are Gibson 3'0" 8 spoke.

GWR 4 plank wagon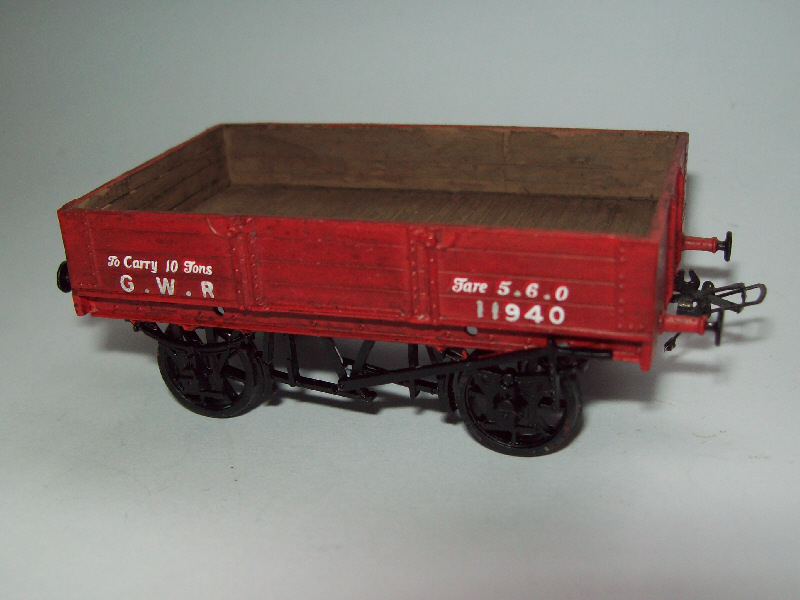 GWR convertible 4 plank wagon of lot 408 built in 1889. Converted from a Coopercraft plastic kit 1004. No compensation is used, just pinpoint axles running in brass bearing cups. Wheels are Gibson 3'0" 8 spoke.

Page updated : 28 May 2018