Other UK content
Locos & Rolling Stock
Some narrow gauge content built for my Leighton Buzzard narrow gauge route.
2.5 Ton 20hp Bent Frame Simplex.
Built initially for the War Department Light Railways in 1916-1918 for use in France during WW1. They were built to a specification for Petrol Trench Tractors of 600mm gauge, weight not exceeding 1 Ton per axle and capable of drawing 10-15 Tons at 5 miles per hour. Several hundred were built for the WDLR, which were sold as war surplus after the armistice. Production continued for civilian customers up until 1929 when a new frame type was introduced. Several of these were purchased by Garside's to haul sand, and one of these (Festoon, works No. 4570) survived into LBNGR ownership as a result of being converted into a mobile fitters workbench.
After the war, optional canopies to cover the driver were made available. These came in two different designs, and were fitted with tarpaulins which could be rolled down as protection against the weather. A full wooden cab was also available, but photographic evidence seems to show that this was an uncommon fitment on the bent frame models.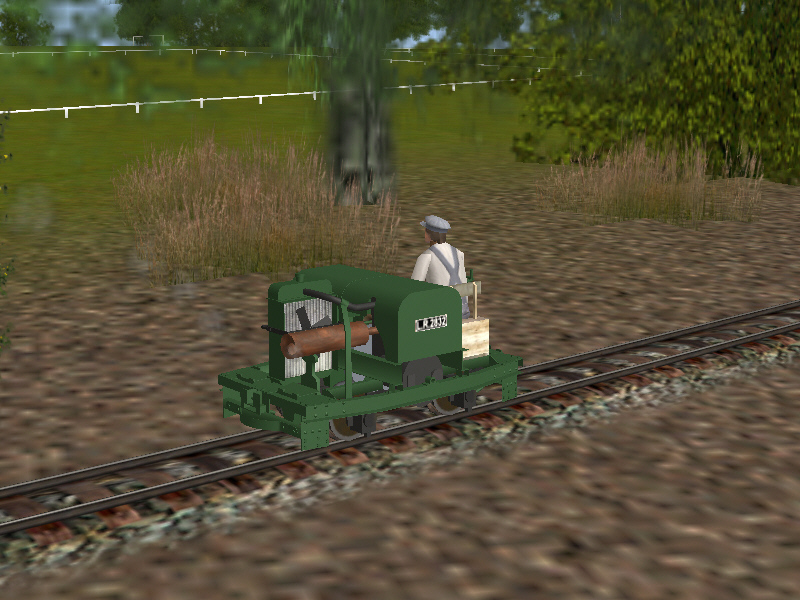 4 Ton 20hp Straight Channel Frame Simplex
In 1929 Motor Rail introduced a new simpler frame design for their 20hp petrol locos, which was also used for the other classes then being developed - the 20/35HP petrol, 25/40HP petrol, 12/16 HP diesel, 16/24HP diesel and 20HP diesel.
The 20/35 model was introduced in 1930 and used the new straight channel frame, but changed from left hand to right hand drive, and used Dorman's new 4MRX petrol engine rather than the earlier 2JO engine used on previous models.

| Item | KUID | Status |
| --- | --- | --- |
| 20/35 HP 4 Ton Channel Frame Simplex | <KUID2:338848:5:1> | In Progress |
| Later simplex bogie | <KUID2:338848:50028:1> | In Progress |
Andrew Barclay 0-6-0T

'Doll' Works No. 1641 built 1919. One of three identical locomotives built for the Sydenham ironstone quarries near Banbury Oxfordshire. When the quarries closed in 1925, they were sent to Bilston steelworks, near Wolverhampton until withdrawn in 1959. After brief spells in preservation near Kenilworth, Warwickshire and at Bressingham, Norfolk, she arrived at Leighton Buzzard in 1969.
'GERTRUDE' Works No. 1578 built 1918. She was one of Doll's sister engines at Sydenham. After withdrawal and passing through several owners she was restored in 2006 by Exmoor Transport and is currently on lease to the WHR. She spent some time on the LBNGR after her restoration, over the August Bank holiday in 2009. Further details on http://www.gertrude1578.co.uk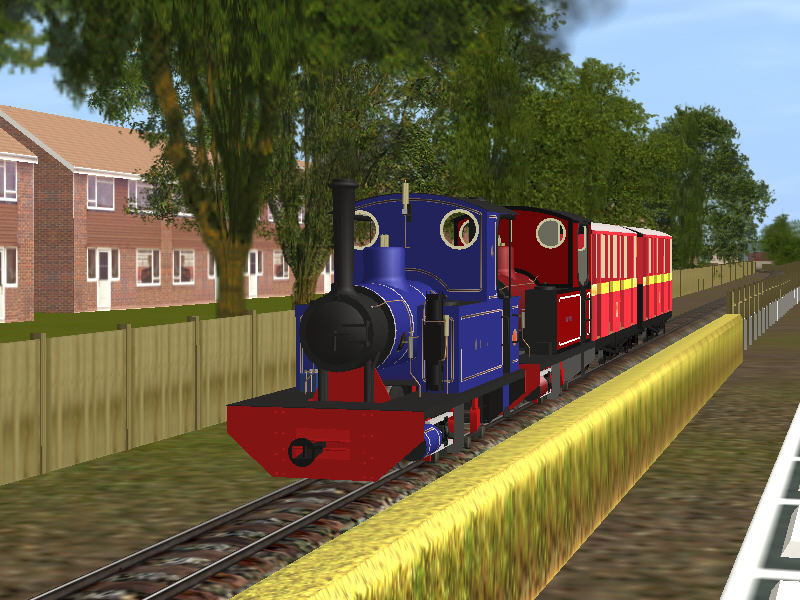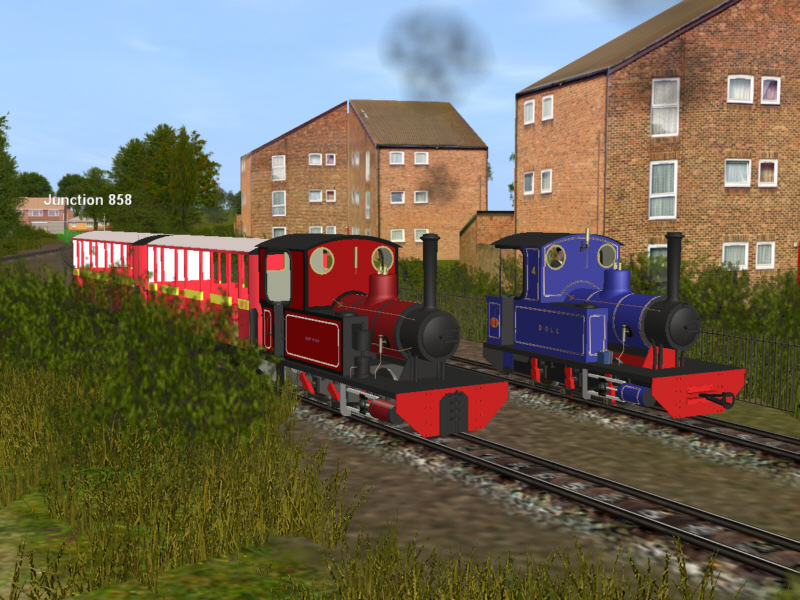 LBNGR Coaches
Coaches 3 & 4 are open coaches which were built on the chassis of ex-WDLR D-type wagons. They have modified suspension, air braking, and the manual handbrake wheels have been removed. Laterly these have been fitted with footboards for greater safety.
Coach 5 is a four wheel coach with guards compartment converted from straight channel frame simplex MR5608 of 1931. It is fitted with an air compressor to supply the brakes when the engine is not suitably fitted.
Coach 6 is a 4 wheel brake van converted from plate frame simplex MR5875 of 1935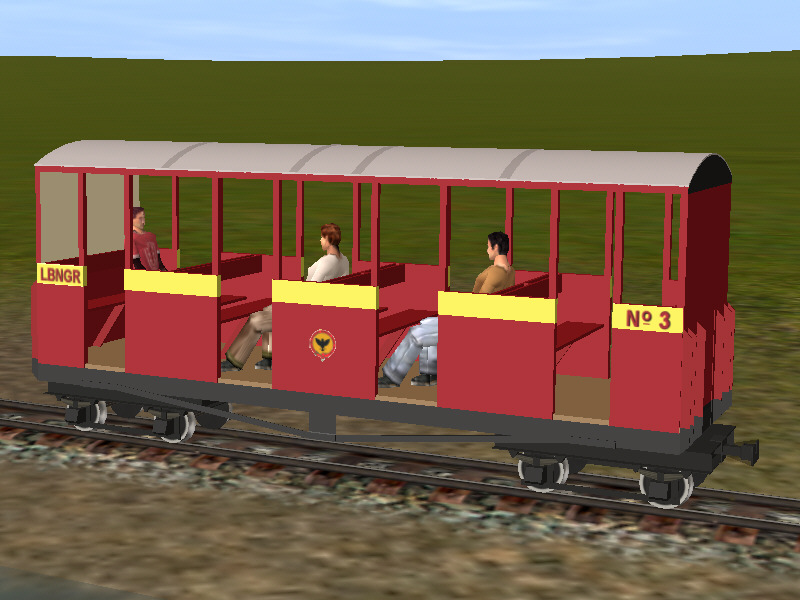 | Item | KUID | Status |
| --- | --- | --- |
| LBNGR Coach 3 | <KUID2:338848:15050:1> | Published on TPR |
| LBNGR Coach 4 | <KUID2:338848:15051:1> | Published on TPR |
| WDLR Wagon Bogie (no handbrake wheel) | <KUID2:338848:50027:1> | Published on TPR |
| LBNGR Coach 5 | <KUID2:338848:15052:1> | In Progress |
| LBNGR Coach 6 | <KUID2:338848:15053:1> | In Progress |
| Later simplex bogie | <KUID:338848:50028:1> | In Progress |
Eurostar (BR Class 373)

The Eurostar is a conversion of the Sketchup model by MrNK94 on the Trimble Sketchup Warehouse. This was one of those "It seemed like a good idea at the time" models. The conversion lost many of the details such as panel lines, as these were zero width. Some have now been re-instated, but these push the poly count back up. I'm not happy with this one, there are numerous smoothing artefacts around the rear of the nose, and the poly count is still way too high, but I can't justify the effort that would be required for a total rebuild of the body. The bogies are already new from the ground up due to the absolutely astronomical poly count of the originals.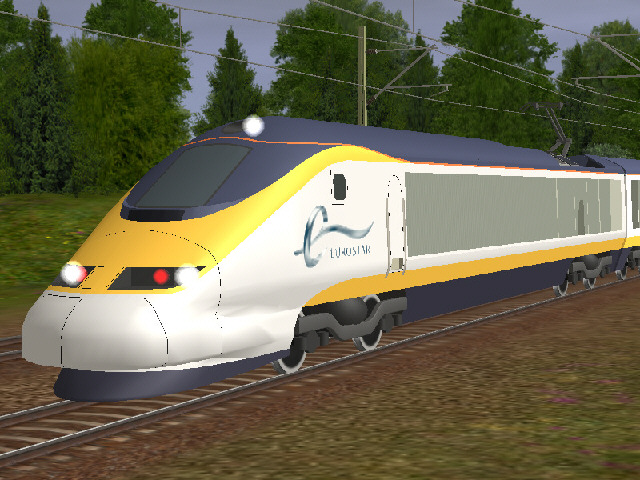 Scenery
A varied assortment of scenery objects. Most are from my Leighton Buzzard Narrow Gauge route, and are mostly only semi-finished. Others are mostly for layout planning purposes, being based on the Bilt-Eezi and Graham Farish N gauge buildings.

| Item | KUID | Status |
| --- | --- | --- |
| LNWR Level Crossing 60deg Left | <KUID2:338848:23000:1> | Complete |
| LNWR Level Crossing 60deg Right | <KUID2:338848:23001:1> | Complete |
| LBNGR Corrugated Green Shed | <KUID2:338848:27000:1> | Beta |
| LBNGR Big Shed | <KUID2:338848:27001:1> | Beta |
| LBNGR Engine Shed | <KUID2:338848:27002:1> | Beta |
| LBNGR Sign - Platform | <KUID2:338848:27003:1> | Complete |
| LBNGR Sign - Welcome | <KUID2:338848:27004:1> | Complete |
| LBNGR Booking Office | <KUID2:338848:27005:1> | In Progress |
| LBNGR Toilet Block | <KUID2:338848:27006:1> | In Progress |
| LBNGR Dobber's Buffet | <KUID2:338848:27007:1> | In Progress |
| LBNGR Page's Park Sign | <KUID2:338848:27008:1> | Complete |
| LBNGR Stonehenge Works Sign | <KUID2:338848:27009:1> | Complete |
| Leedon Flats | <KUID2:338848:27010:1> | Beta |
| LBNGR Bufferstop | <KUID2:338848:27011:1> | Beta |
| Concrete block wall | <KUID2:338848:27012:1> | Abandoned |
| LBNGR Level Crossing | <KUID2:338848:27013:1> | Published on TPR |
| Pages Park Pavillion | <KUID2:338848:27014:1> | In Progress |
| Bungalow | <KUID2:338848:27200:1> | Complete |
| Church | <KUID2:338848:27201:1> | Complete |
| Swan Inn | <KUID2:338848:27202:1> | Complete |
| Terraced House Row | <KUID2:338848:27203:1> | In Progress |
| Rural Cottage | <KUID2:338848:27204:1> | In Progress |
| Tudor Hotel | <KUID2:338848:27205:1> | In Progress |
| Cottage | <KUID2:338848:27220:1> | Complete |
| Large Barn | <KUID2:338848:27230:1> | Complete |
| Garage | <KUID2:338848:27231:1> | Complete |
| Detatched House | <KUID2:338848:27232:1> | Complete |
| Semi-Detatched House | <KUID2:338848:27233:1> | Complete |
| Bungalow with Garage | <KUID2:338848:27234:1> | In Progress |
| Half Timbered House | <KUID2:338848:27235:1> | In Progress |
| Canada Water 9 | <KUID2:338848:27300:1> | Beta |
| Broad Gauge Trestle A | <KUID2:338848:100000:1> | Complete |
| Broad Gauge Bridge Track | <KUID2:338848:100001:1> | Complete |
| Broad Gauge Track | <KUID2:338848:100002:1> | Complete |
| Broad Gauge Tracka | <KUID2:338848:100003:1> | Complete |
| Broad Gauge Trackb | <KUID2:338848:100004:1> | Complete |
Page updated : 10 Jul 2016